How to Handle Bad Reviews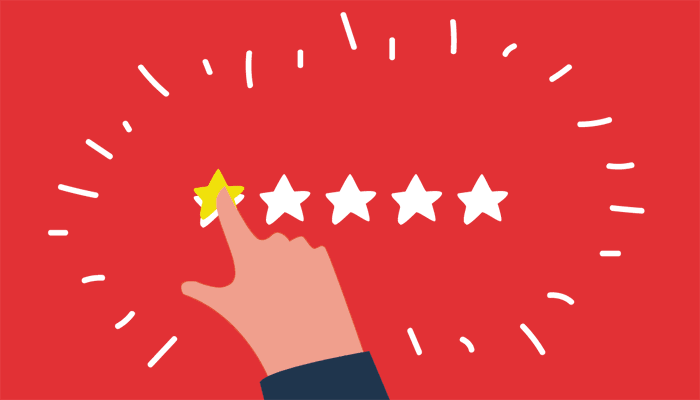 Someone left your business a negative review. What do you do?
It happens to just about every company at some point. Someone leaves a negative or 1-star review online, bringing your total rating down a few notches. Or worse, that 1-star rating might be your only rating! Whether the negative review was left by an unhappy customer, a disgruntled employee, a competing company, or whatever the reason, unless you have a lot of excellent reviews to offset that bad one, it's going to hurt your business.
How to Find Your Company Reviews
Do a Google search for your company name (and then do another search with your company name, followed by the word reviews). Look through all the search results on Page 1, 2 and 3, and see if there are any that have stars next to them. Many online listings allow reviews, but only a few show your average star rating in Google search results. Google My Business is the most important, and your overall star rating with Google My Business can affect your website and Google My Business ranking. Other websites that show your average star rating in Google search results that are important as well include Yelp, Houzz, Thumbtack, HomeAdvisor, and Angi.com.
Oh No, Bad Reviews!
So what do you do if you get a negative review? Remember that you cannot remove reviews (except in certain circumstances... keep reading) But here's what you can do instead:
Try to determine if the person who left the review is indeed an unhappy customer. If so, contact that person and ask them what you can do to resolve their issue. No matter how nasty their comment was, be courteous, professional, and apologetic. Perhaps it was a simple misunderstanding or miscommunication. If there's something you can do to rectify the situation and it's not a big deal to do so, do it. Of course, ask them to please remove their negative review after you've taken care of the problem. There's still no guarantee they will remove it, but it's better than doing nothing.

If you don't know who the person is who left the review, or they are a customer but you were unable to contact them or resolve the issue to their satisfaction, on most websites you can leave a reply to their negative review. The most important thing to remember is to be professional and factual in your reply. No matter how nasty the review is, name-calling or being argumentative will make you look petty and unprofessional, and that's not the image you want your company to project to potential customers.

Here's a negative review that was left for one of my roofing contractor clients:
"Charged more than the original quote and did sloppy work and nails everywhere. Don't ever hire this company their the worse."
(I've included original misspellings and grammatical errors.)

My client checked in his records and could find no information about this person (granted, the name he left on the review might have been fake). My client was very angry and said he was going to "tell that guy off". I told him to let me reply to the review instead, which was this:

"We cannot find a customer in our records with this name. If there was a problem with our pricing or quality of work for this job, we sincerely apologize and ask that you contact our office as soon as possible so that we can try to rectify this issue."

When the company replies to a review, usually the person who left the review will get an email notification about the reply. My client never did hear back from that "customer", but someone reading the review may have a more positive image about your company due to how the review was handled.

Now here's another negative review left for a different client:

"They suck. Period."

My client's reply:

"well you suck to you piece of crap go get a life you looser"
(Again, I've included original misspellings and grammatical errors.)

Now, which of the two roofing contractors would you be willing to still do business with despite the negative review they received from their customer?

Under certain circumstances, you can report the review and the website may remove it (as well as the low rating that goes along with it):

If the review includes threats of violence, inappropriate content such as cursing or pornographic content, advertising or spam, or comments related to race, ethnicity, religion, gender, disability, or sexual orientation.
If the reviewer left negative reviews with a bunch of random companies all over the country in one night, which means they're probably a Google Local Guide. Google gives perks to people who leave reviews, and a lot of business owners are upset because some Google Guides are leaving random low-score reviews just to rack up points.
If the reviewer left negative reviews with other companies in his/her industry, yet left a glowing positive review with one particular company in the same industry (meaning he or she is probably a competitor).

On Facebook, as with any other website, you cannot remove a review or recommendation (except to report it), but Facebook allows you to hide ALL reviews on your company page. Unfortunately this will hide your good reviews too. But hiding all reviews might be a good idea if you have a lot of negative reviews or a low average number of star ratings (and if that's the case, you need to fix the reason why you're getting so many bad reviews).
How to Avoid Bad Company Reviews
So what can you do to avoid getting negative reviews? Provide the best customer service and quality of work possible! But you can't make everyone happy, and you can't avoid troublemakers or disgruntled ex-employees or competitors. And obviously removing all of your online listings doesn't make sense, because you need an online presence to get customers. So besides providing exceptional service, the best thing you can do is ask happy customers to leave reviews for you.
The Math Behind Company Reviews
The more 5-star reviews you get, the less that 1-star review is going to hurt your overall star ranking. If you have no reviews on a website, and someone leaves a 1-star review, your overall star ranking is 1. But if you have four 5-star reviews on that website, and someone leaves a 1-star review, the website will average 5, 5, 5, 5, and 1, so your overall star ranking will be 4.2. Plus, the more positive reviews you have, the less people will care about one or two negative reviews.
But what if you only have a couple of reviews AND they're negative? You need to get that star ranking up by having happy customers leave 5-star reviews, but it's going to take time. If your company gets a bunch of 5-star reviews in a short period of time, such as a matter of days or even weeks, it looks suspicious, and the listing site might remove those reviews. A good rule of thumb is to have different customers leave one positive review once a week or more. The farther apart the reviews are, the more likely they will look legitimate. The last thing you want is for prospective customers to think you're making up reviews or having friends leave them.
Investigate Bad Company Reviews
If you have a lot of negative reviews, however, you should investigate all complaints and find out where your company may be failing. Simply hiding reviews won't help your company if your employees are performing shoddy work or your receptionist is being rude on the phone. Poor customer service or quality of work will eventually bring your company down whether you have negative online reviews or not.
So, instead of scrambling to get good reviews after someone has left you a negative review, start getting those positive reviews posted NOW, to offset any negative reviews you might get in the future.
© T. Brooks Web Design, LLC.
All rights reserved.

Do not copy content from this page without attribution to T. Brooks Web Design and link back to this page.