Google Search and Business Listing Scams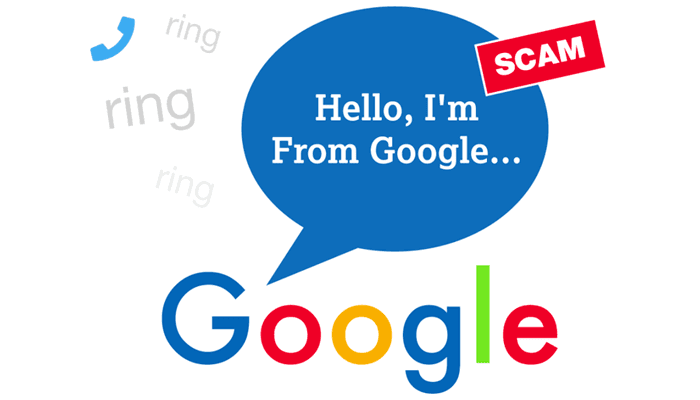 That phone call from Google is NOT from Google! How can you identify and avoid the many online marketing, domain and website scams out there?
Online scams are rampant, and the problem is getting worse. Unscrupulous fly-by-night companies call and email thousands of businesses a day making preposterous claims that promise to catapult your company to the top of search engines and get you more customers than you can handle. The old adages that say "Buyer beware" and "If it seems too good to be true, it probably is" definitely apply here!
This blog focuses on companies that provide search engine and online listing services, but there are plenty of other related scams out there. Some are obvious scams, and others may be legitimate companies with some unethical practices or those that make claims that they don't or can't deliver. This blog is about the the obvious scams.
Guaranteed Placement on Search Engines
This is the most ludicrous phone scam, because Google doesn't call companies asking for their business! If you get a call from a company claiming to be Google, or working with Google, or a subsidiary of Google, and they tell you they can improve your business listings or put you on the top of Google... just hang up. Don't even ask these bozos to remove you from their calling list, because they won't. And blocking the number won't help because they always call from new numbers, usually those in your local area.
These fly-by-night companies have nothing to do with Google, and they're probably located outside of the United States even if they're calling from a local number. They will often tell you they can "guarantee" placement of your business listing at the top of Google, or in the number one spot, or on Page One of Google Search. Which is an impossible claim, and even the official Google Search Central SEO page says that placement cannot be guaranteed. This page also specifically warns, "Beware of SEOs that claim to guarantee rankings, allege a special relationship with Google, or advertise a priority submit to Google".
If you do get reeled by one of these scams, at best you may end up paying for what amounts to nothing more than Google's own Pay‑Per‑Click program, which you can set up yourself for free. At worst, however (and more likely), you could end up handing over your credit card number to an identity thief.
Just hang up if you get a call that sounds anything like the following:
They claim to be affiliated with Google.
They guarantee to place you on the first page or the first listing in search engines.
Their company name is very generic, such as "Internet Listing Company" or "Your Search Engine Provider".
They're calling from a "call center", where you can hear other people's phone conversations in the background.
They sound like they're reading from a script.
You say you'll call them back and they tell you the phone number doesn't accept incoming calls.
You ask for their website and they either can't provide one, or the website looks bogus or outdated, or includes misspellings and poor grammar.
If you ask too many questions (sometimes even asking their company name), they hang up.
They don't take no for an answer, or try to argue their point, or tell you their special is good for today only.
It's not even a live person, but a recording.
Search Engine Submission Services
Google (and Bing) constantly crawl the internet looking for new websites. If you don't manually submit your website, it will automatically get indexed and added to search listings eventually anyway (as long as proper web design and SEO guidelines are followed). If you want your website to get indexed by Google more quickly and efficiently, your web designer can set up a Google Search Console account. There is no such thing as a "search engine submission service"!
Additionally, these bogus search engine submission services claim to list you on hundreds or even thousands of search engines, but this is unnecessary as well, since the only search engine that most people use is Google (93% market share in 2022, with Bing at 3%). All of the others are obscure; when is the last time you used AltaVista or AllTheWeb or Teoma?
Additionally, automated listings on hundreds of search engines is not just unnecessary, but detrimental. It's considered a "Black Hat" SEO technique that is against most search engines' terms of service because it attempts to "cheat the system" by creating artificial, spammy links. Black Hat tactics can result in your website getting removed from Google Search listings and even permanently blacklisted.
Business Listing Services
Business Listing services are similar to Search Engine Submission services, but Business Listing services submit your company information to free online listings websites rather than search engines. Free listings websites include sites such as Google My Business (which is different from Google Search), Bing Local, and Manta. Like search engine submission services, business listings services often list your company on 50 or more websites which is unnecessary since many of the sites they put you on are obscure, cater to a foreign market, or don't rank well themselves. And getting listed on low quality sites that are not reputable can actually hurt your website rankings.
While listing your business on listings websites is very important in your overall marketing strategy, and the service itself is legitimate, many of the companies that provide the service utilize deceptive, dishonest, or overly aggressive sales and billing tactics. For instance, almost all of these companies charge a recurring monthly or annual fee. This makes no sense, as the information is submitted to the listing websites ONCE, and the listing company does not perform any maintenance to the listing. So if all the work is done one time, what are they doing on a monthly or annual basis to justify charging recurring fees? Believe it or not, there are very large, "legitimate" companies that charge recurring fees to add you to free listing sites. Nobody questions this, as most people don't know how it actually works. They do provide reporting on clicks to your listings, but their reports are often buggy and inaccurate.
There are many business listing services out there, but the most popular one is Yext. Here is some information I've found out about Yext personally and from my clients:
Their "Scan Now" form on their website allows you to "Check to see how your business appears across the internet". With every website I tested, the results were inaccurate, saying that the company was not on a particular listing site when it was. Also, shortly after submitting the company information on the "Scan Now" page, Yext called. And called. And called. Almost every day, for months! Even though I never provided my phone number! Scary!

The people I talked to on the phone were evasive and wouldn't answer my questions, but they kept asking for my credit card number.

Their service starts at $199 per year (in 2021) to submit to 40 local search directories. But they kept trying to rope me into their $999 per year service. Even with their 40-site listings, I didn't recognize most of them, but I researched the listing sites; many of them cater to a non-U.S. market and/or are very obscure, like a "link farm" (which is against Google Search's terms of service).

By default you are set up on automatic renewal, and trying to change or dispute it is very difficult.

Clients who chose to not renew the next year either got their listings deleted or locked so they couldn't go in and ever make changes again. Remember, they own your listings, not you!

Many listings generated by Yext contained wrong information, including the wrong industry, category, or website address.

More and more company listings are getting "hijacked" by Yext out of the blue. So you may try to go in and submit listings yourself, but find that Yext has already claimed them without your knowledge or consent, even if you're not a Yext customer. At that point your only option is to pay Yext to keep the listing active, since you won't be able to submit another listing to that website because it will be considered a duplicate.
Email Scams
There are tons of email scams going around. The latest one looks so legitimate that even I was fooled. My client got an email from a "digital marketing professional". The email reported many errors on my client's website (which were not accurate at all), and of course they could fix the errors for a fee. So after some investigating, I found that this is a form letter that is being emailed to thousands of website owners with exactly the same wording. There is no "digital marketer" looking at these websites! Many of the fields in the email are personalized to the particular website (such as the meta tags and keywords), which can be done by writing a code to insert those personalized fields into email. It's because of this personalization that the email looks so legitimate. If you fall for this scam, at best you'll pay to have someone "fix" the "errors", and of course nothing will be done and the "company" will disappear with your money. At worst, you risk being a victim of identity theft when you give the "company" your credit card number.
I got a call from a company saying my website is not set up properly.
This could be a legitimate web designer looking at your website and seeing that it does indeed need work (nothing wrong with trying to drum up some business). But it could also be a scam, someone from a call center making calls to thousands of people when in fact most of the time they've never even seen your website. How can you tell if a call like this is legitimate or if it's a scam? Can you hear a bunch of other people in the background talking on the phone? If so, it's a call center which means it's most likely a scam. Ask for the person's phone number and website address. If they don't want to give it to you, just hang up. If they try to push you into a making a decision NOW, it's either a scam or a commission-driven salesperson. If you do get their information, take the time to research the company. If the call is from Thryv/DexYP (Dex Media), Yext, Manta, or any other big name online marketing firms, don't waste your time; they want to rope you into paying for services that you either don't need or that they can't deliver. You may get these calls if you've recently added your company information to their free listing websites.
Take Everything with "A Grain of Salt"
Don't believe everything you read. While many blogs and websites are meant to educate, many are also published with an agenda in mind. That includes "Top Ten Reviews" type websites that compare various listing services and give one or more a high grade. Often these "review" websites are owned by the listings companies themselves, and one or even all of the services being "reviewed" are owned by the same company!
Blogs that praise a website's services may have been written by the company. Blogs that criticize a service may be written by SEO companies that offer their own services. So do your own research. While a few blogs here and there may not mean much, lots of negative reviews are significant. And Yext has oodles. Just do a Google search on Yext Scam, Yext Fraud, or Yext Complaints and see what comes up.
A legitimate Online Marketing Service should require only a ONE-TIME charge to get listed on the top 10 most popular, reputable listing websites (including Google My Business). No recurring fees!
Business Listings and Domain Name Scams
Closely related to search engine submission, business listings and website scams are domain name and listing service scams. Read my blog, which includes images of actual scammy emails and letters.
© T. Brooks Web Design, LLC.
All rights reserved.

Do not copy content from this page without attribution to T. Brooks Web Design and link back to this page.