The Difference Between a Facebook Profile, Facebook Page, and Facebook Group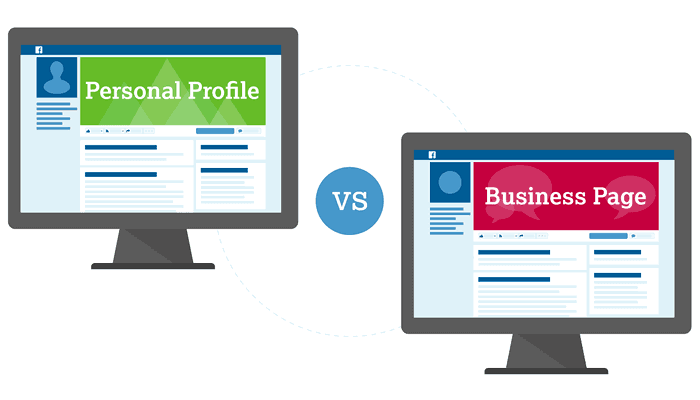 What is the difference between a personal Facebook profile, a company Facebook page, and a Facebook group?
Facebook Profile
A Facebook profile is for individuals, not companies. The profile is under your personal name, and it's against Facebook's terms of service to use a company name for your Facebook profile. Although you can post content about your company on your profile, this is not a good way to market your company on Facebook. Why is this?
Most personal profiles are set to be viewed only by friends, or friends of friends, rather than the general public. So only your friends are going to see posts about your company. Which is pointless, because they probably already know about your company.
Your personal Facebook friends and family may get tired of seeing your company posts all over their wall!
Posts made on a company page can get picked up by search engines, but posts made on your personal profile generally will not.
Facebook Page
A Facebook page is a page you create in Facebook for your company or an interest (such as a brand of merchandise you like, an artist or band of which you're a fan, etc.) A Facebook page is publicly viewable from not only other Facebook members, but non-members as well. Content that you post on the page can also get indexed by search engines, which makes it great for advertising your company. Although you manage your company page by logging in from your personal profile, posts that you make on your page do not affect your profile, and vice versa. Nobody can see who owns the company page (it's separate from your personal profile), and posts that you make to the company page are shown as being made from the company page, not from you personally.
With a Facebook page you can assign other people to manage or create content for the page, which you cannot (and should not) do with a profile (as you would have to give them your Facebook username and password). This makes a Facebook page the obvious choice for companies with more than one employee who will be making changes to the page.
Facebook pages do not have "friends" the way your profile does. Instead, Facebook pages get "likes". Although anyone can view the page whether they've liked it or not, if they "like" the page, then any content you post on the page automatically appears in their news feed. Depending on how they have their privacy settings set up, the post may also appear on their friends' news feeds, or friends of friends. So one post on your page could reach hundreds or thousands of Facebook users. But how do you get likes from people other than friends and family? You utilize Facebook ads to reach people in your target demographic!
Facebook Group
A Facebook Group is ideal for communication within a group or community, such as a local book club, residents of a city or county, local buy/sell groups, and hobby groups. In order for someone to join a Facebook group, someone in the group (usually the group administrator) must approve the request.
Starting your own Facebook group to promote your business is a waste of time. However, you can join other Facebook groups that are established and have a lot of members, and advertise in those groups AS LONG AS they allow advertising. Advertising in Facebook groups for cities and counties you serve is a great way to promote your business, as long as you don't overdo it (and always check with the group administrator first to make sure that ads are allowed).
© T. Brooks Web Design, LLC.
All rights reserved.

Do not copy content from this page without attribution to T. Brooks Web Design and link back to this page.