How to Spot Fake Reviews
Your competitors may have a ton of reviews on Google and Yelp, but are they all real? How can you tell if a review is real, and identify fake reviews?
Fake reviews are easy to spot if you know what to look for. Some are easier than others, but in general, there are some telltale signs that a review is fake. Yelp is difficult to trick, but Google is a lot easier. And Google is often the site on which a lot of reviews are indeed fake, because more reviews (and more 5-star reviews) can lead to higher rankings in the Google Business map section on top of the Google search results page. Reviews on other websites, such as social media sites and listing directories, don't contribute to search ranking, so they're not faked nearly as often as Google reviews, so this blog will focus specifically on Google reviews.
Fake reviews have always been an issue, but the problem is more rampant than ever with new A.I. software that makes it possible to generate wording for hundreds of fake reviews at the push of a button, as well as fake names and even fake A.I. generated profile photos.
Just one sign that a review may be fake may not mean anything by itself, but the more signs that apply to a review, or the more reviews to which a sign applies, the greater the chance is that the reviews are fake. And if there's one fake review, it's very likely that many more, if not all of them, are fake as well. This is especially true if the reviews were purchased from a review service; they're not just going to post one fake review.
Review Services ("Reputation Management")
There are tons of paid review services out there. Some of them offer legitimate services as well, such as reaching out to your actual customers to try to get reviews. But many, if not most, do provide fake reviews for a fee. They often go under the broad umbrella term of "reputation management". These companies outsource the work to organizations that are usually located in other countries, and have access to thousands of people who do nothing all day but continually post reviews. It's not something that the average person could do, as it requires a lot of manpower, as well as advanced techniques to evade getting caught.
Reviews by Friends, Family and Employees
These types of reviews are slightly more "forgivable", than purchased reviews, although still highly dishonest. But a new business just starting out, or a company that hasn't been great at requesting reviews and therefore has very few, may be tempted to have people they know leave reviews. These are harder to detect than purchased reviews, but you may see some patterns if you spend enough time. For instance, some of the reviews may be from several people having the same last name as the company owner, especially if they were left within the same week or month. And if you have the time and patience, you may find that some of the reviewers are their friends on Facebook, or their company employees.
Negative Reviews for Competitors
If the review left for this company is the only positive review, but the reviewer left negative reviews for competitors, maybe they were just unfortunate in hiring the wrong companies, but it's more likely that the reviewer is acquainted with the company. Sometimes the content of the reviews is the giveaway; for instance, the company did great work replacing their roof, but 10 other companies did shoddy roof replacements on the same house within the span of a few weeks or months.
Owner Responses
Responding to reviews is always a good thing, but if you see that the company is saying thanks to a lot of reviewers within minutes of the review being posted, that may be something to look at, but only if some of the other signs are there. The company owner may just be really good at responding to reviews as soon as he or she gets the notification.
Signs to Look For
Here are some signs to look for when trying to determine if a Google review is fake.
All 5-Star Reviews
While it's very possible for a company to have all 5-star reviews, the higher the number of total reviews, the more likely it is that a lower-star review may be thrown in. If all the reviews are 5 stars (you can sort Google reviews by number of stars), especially if there are hundreds of reviews, that could mean the reviews are fake, if other signs also apply.
Timing
Neither Google nor Yelp show the time or day of week in which reviews have been posted, and Google doesn't even show the date, only how long ago the review was posted (days, weeks, months, years). But you can still get a rough idea of the timing. Were all or most of them posted within a short amount of time, like the same day or week? Or a bunch of reviews posted in one month, then nothing for several months, then a bunch posted in another month? The timing for reviews should be random, and there shouldn't be any noticeable patterns.
For sites that show the time in which the review was posted (Google does not), a lot of reviews posted at odd times of the night or early morning hours, when the company only provides services in their local area, is suspicious. That's because review services often hire reviewers from other countries.
Impossible Geography
If the reviewers are reviewing other companies located in different states within a very short amount of time, maybe they simply travel a lot. If the company they're reviewing is a home improvement contractor, and the review is for the same type of work on multiple properties across the country, they could be real estate managers. But if this is the case for more than a few reviewers, that's fishy.
Number of Reviews
If every review is left by someone who has only reviewed your company and no others, by itself that's not an issue, but again, paired with the other signs, this could be another one.
Reviewer Names
Names of reviewers hired by review services can look fake when you see a lot of them in a row. They tend to be too "perfect"... First and last name only, first letter always capitalized, and mostly "Anglo" type names. Or instead of Anglo type names, they may be mostly foreign sounding names, specifically Arabic (as review services tend to outsource their services to other countries, mostly India and Pakistan).
With real reviews, sometimes the names are all lower case, or all upper case, or they include a middle initial or only have a first or last initial. Real reviews tend to include a mix of ethnic names, some names that are strange or hard to spell, and some that are not names at all but something nonsensical like "Bc Bae".
Profile Picture
Fake reviews usually have a fake looking photo as their Google profile photo, or they have no photo at all. Of course, this can apply to legitimate reviewers as well, but real reviews are a mish-mash of different types of profiles photos, not just the fake photos and no photos. The profile photos for fake reviewers tend to look too professional, like stock photography or a model-type photo, and often they're provided by using a random face generator (just do a Google search) which uses A.I. to produce images that look perfectly real, especially at the small size of Google profile images. Real reviewers don't always have a picture of their face as their profile pic; it may be a flower or a car or their pet, or even something unidentifiable, but in general the pictures don't have that "stock photo" or "studio quality" look, and they're usually not as "close up" as the fake profile pics.
In addition, the person's gender sometimes won't match the name. Or they're a woman and mention their wife, or a man and mention their husband. Now granted, that's not a red flag on its own by any means, as gender is more fluid these days and there are plenty of same-sex couples. What matters is that these reviews will be at a minimum, and if you're seeing a lot of them, something's up.
Wording
Here are some telltale signs for spotting fake Google reviews based on the wording of the review. Again, like all of the other signs, what matters is the number of reviews to which these signs apply, and the number of signs in general that apply to most or all of the reviews. That's what determines how likely it is that a review is fake.
Fake reviews tend to all use perfect grammar, spelling and punctuation, and the same writing "style", like they came from the same magazine or were written by the same person; with real reviews, it's a mixed bag, and you can see a difference in writing styles, along with different misspellings and improper punctuation. If fake reviews include misspellings and improper punctuation, they are often the same misspellings and punctuation errors for multiple reviews.

On the flip side, many fake reviews (especially those written by "bargain" review services, or reviewers hired on sites like Fiverr) may look like they were written by someone whose first language is not English.

Some of the details among different reviews may be exactly the same, word for word, in a way that could never be a coincidence.

Fake reviews often emphasize qualities about the company itself rather than the work that was performed. A real review might go into specific details about having an older home that needed TLC, and the company helped them choose the blue paint they wanted and fixed a crack in the trim, etc. While a fake review might just simply say how wonderful the company is, how they hold high standards, how they're trusted by their community, how they share my values, etc., reading more like a marketing or promotional piece.

There may be inconsistencies; for instance, the first sentence says the company repaired their roof, but the last sentence says they're a great kitchen remodeler. Or the first sentence says they did work on their siding, but another sentence in the same review says, "My kitchen looks better than new!"

Some of the word choices and sentence structures may be seem "off"; for instance, "They are highly esteemed and revered in their community", "I remember them fondly", "The techniques they employ are admirable", "With this company, there were no question marks", "They immediately endeared them to us". It might look like the reviewer consulted a thesaurus to find synonyms that would help differentiate it from other reviews.

All or most reviews, especially if in a row, are roughly the same length as far as number of words. Legitimate reviews will have some long reviews and some very short reviews mixed in.

Real reviewers may misspell the company name, or not include the entire company name. For instance, Joe and Sons Roofing may be shown as Joe's Roofing or Joe and Sons or Joe & Sons Roofing. But fake reviews may say Joe and Sons Roofing every time. Or they may simply say "this company" instead of the company name.

All or most of the reviews are simply 5 stars with no explanation or wording at all.
Hidden Contributions on Google
This is the "smoking gun" for fake Google reviews. Google allows reviewers to hide reviews from their profile. While some people are just private, there's really not much of a reason that someone would want to do this. In fact, most people don't even know this option exists, or how to enable it. So although there could be 1 or 2 legitimate reviewers that have their reviews hidden, more than that, especially several in a row, is a dead giveaway.
To check if a reviewer has hidden their reviews from their Google profile, do a Google search for the company, and when their Google Business listing comes up, click the Google reviews link. When the review box appears, click a reviewer's name. Then on the next page, click the Reviews tab (not Photos). Hidden reviews say, "This person hasn't written any reviews yet, or has chosen not to show them on their profile."
Examples of Fake Google Reviews
These reviews were copied from a real roofing company's Google Business page. Company name is removed for privacy. All of these reviews are fake EXCEPT THE LAST ONE. You can see patterns, and how often the terms "Their team", "worked diligently", "this roofing contractor", "efficient", "outstanding", and "exceptional" are repeated. Also, most of the reviews are roughly the same number of words. Plus there are two identical reviews made by different people. Also, some of them have double spaces between the letters, more than is normal if it were just a coincidence, like they were copied and pasted from another source. Notice how the last review (the real one) is longer, more detailed, and includes a couple of misspellings and punctuation errors.
Rose Barnes
[COMPANY] provided efficient and high-quality flat roofing services for my building. Their team was efficient and reliable, and I am very pleased with the final result.
Jann Williamson
I highly recommend [COMPANY] for any roofing needs. Their team provided excellent metal roofing services for my business, and the final result was an exceptional and aesthetically pleasing roof.
Rebecca Ruby
My experience with [COMPANY] contractor was excellent. I needed a roof repair, and they responded promptly to my request. They were efficient and courteous, and the job was done quickly and diligently.
Barbara Moore
[COMPANY] provided outstanding roof replacement services for my business. Their team was able to install a beautiful and functional roof, and their professionalism and expertise were exceptional.
William Sellers
I recently hired this roofing contractor for roof installation services for my home, and I am very pleased with the final result. Their team was efficient, reliable, and provided valuable advice on the best roofing solution for my needs.
Valerie Collins
[COMPANY] provided exceptional residential roofing services for my home. Their team was able to identify and repair a leak in my roof, and their customer service was outstanding throughout the entire process.
Jade Lacbayen
My home's roof had a few leaks and needed repair. I contacted [COMPANY] company, and they provided an exceptional roof repair service. Their team was efficient and completed the job on time.
Renee Lopez
This roofing contractor is fantastic. They installed a new roof on my property, and the results were outstanding. Their team worked diligently and repaired the leak on time. I couldn't be happier with their work.
Luisa Dickman
I recently had a roof repair emergency, and [COMPANY] was able to respond quickly and provide outstanding services. Their team was knowledgeable, efficient, gave me the best roofing solution for my needs.
Mokua Jephter
The team at [COMPANY] was amazing. They showed up on time, worked diligently, and left my property clean and tidy. I'm thrilled with the results of their residential roof installation services.
Johnnie Reyna
When I needed roof repair services, I didn't know where to turn. But after hiring this roofing contractor, I knew I was in good hands. They were knowledgeable, skilled, and communicative throughout the entire process.
John Lanier
[COMPANY] provided outstanding roof replacement services for my business. Their team was able to install a beautiful and functional roof, and their professionalism and expertise were exceptional.
Michelle Thames
I recently hired this roofing contractor to replace my old roof with a new one. They did an excellent job with the residential roof replacement, and the new roof looks fantastic. The team was friendly and worked diligently.
Ernest R. Johnson
I'm late in posting, but I really appreciate [COMPANY]. I had small hole in the frame of my home where squirrels were entering and causing a ruckus. After calling around and being given estimates of thousands of dollars to have the job done, I was able to find [COMPANY].They came out within a day of my contacting them, reviewed my home, and fixed the problem the next day. I was relieved, and the cost didnt break my bank account. I would definitely reccomend [COMPANY] to anyone for their roofing projects.
Why Fake Reviews are Bad
Besides the obvious dishonesty involved in using fake reviews for your profile, if you provide a great service and are persistent about requesting reviews from your customers, you shouldn't need fake reviews. And if potential customers suspect that your reviews are fake, that's worse than having no reviews at all, because now you're looked at as a company that has no integrity. In addition, Google has tightened their security measures due to the proliferation of fake reviews, and these increased security measures make things difficult for everyone.
If that's not enough to deter you from thinking about utilizing fake reviews for your business, maybe these two compelling reasons will:
If Google gets wind of it, at the least they will delete all your reviews (even the legitimate ones), but more than likely they will suspend your entire Google Business listing, sometimes indefinitely, as well as block you from ever creating another Google Business account. Since Google Business listings are important in getting new customers, that can result in a lot of lost revenue for your business.

The FTC is going after companies that post fake reviews by imposing fines. That's right, fake reviews are illegal. In fact, in June 2023 the FTC announced a proposed rule prohibiting companies from selling review services, and issuing even stronger civil penalties for violations by review sellers as well as buyers, and businesses found to be using reviews from company insiders.
When I first thought about writing this blog, which admittedly was about a year ago, I made a list (with links) of ten companies I found that had obvious fake Google reviews. While writing this blog a year later, I went to visit each of those links. One company is no longer in business, two of the companies have only a handful of reviews on their Google profiles now (all real, from what I can tell, meaning that Google deleted all the other reviews), and two no longer have Google Business profiles at all. So half of those companies didn't get away with the fake reviews. 50% is quite a gamble when you consider that getting caught could conceivably put you out of business.
FAKE REVIEWS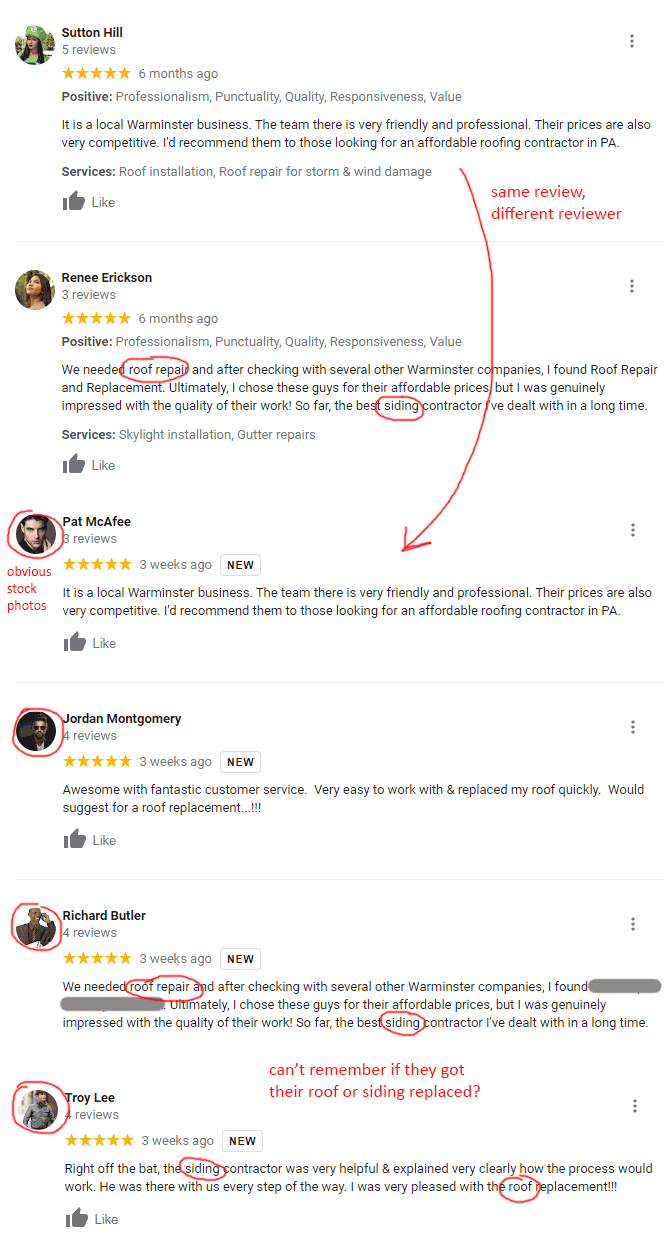 FAKE REVIEWS
These look more legitimate than the ones above, but some of the wording still seems "off". Also, not one of the reviewers has a profile pic, spelling and grammar are perfect, and every reviewer's profile name is just a first and last name. Compare with the real reviews in the image below. I removed stars to fit more content in the image.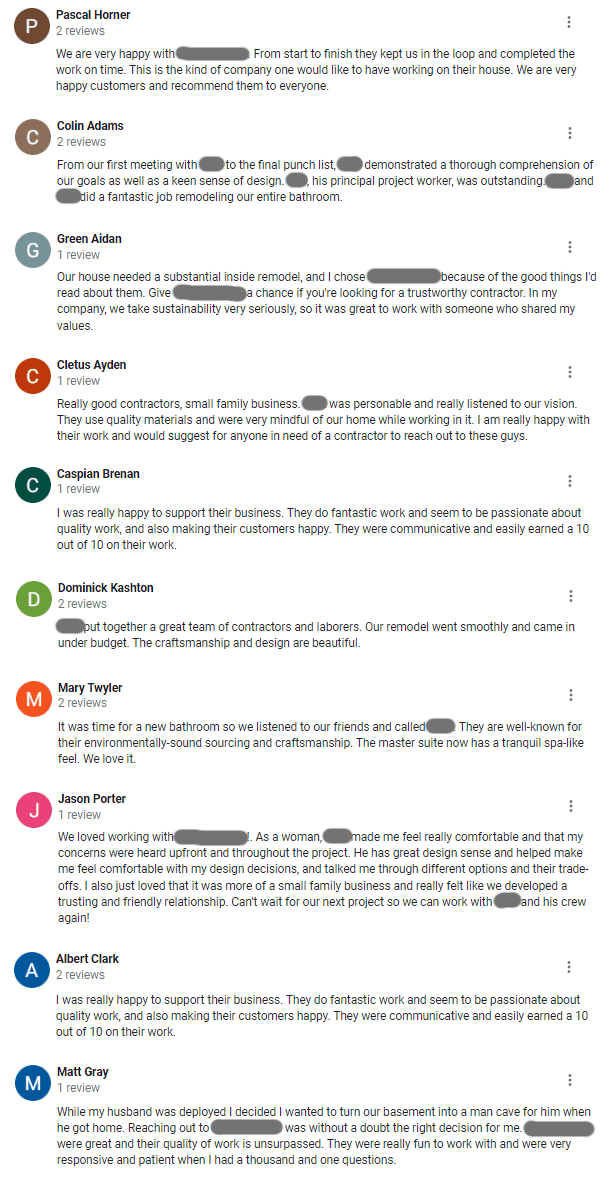 REAL REVIEWS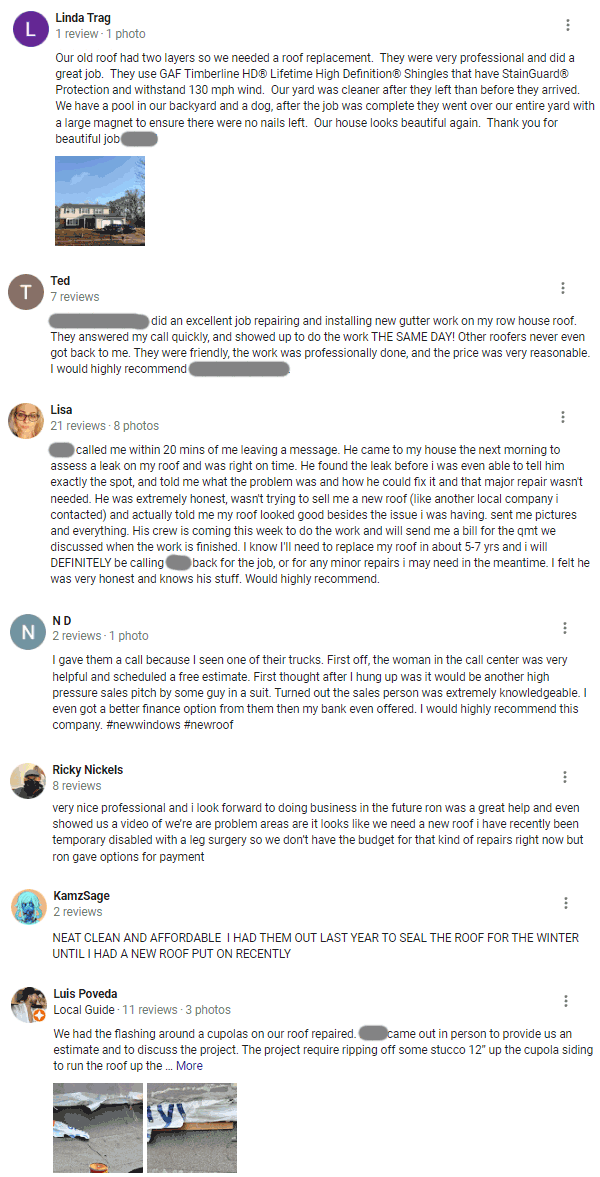 © T. Brooks Web Design, LLC.
All rights reserved.

Do not copy content from this page without attribution to T. Brooks Web Design and link back to this page.