Google Search Website Ranking Factors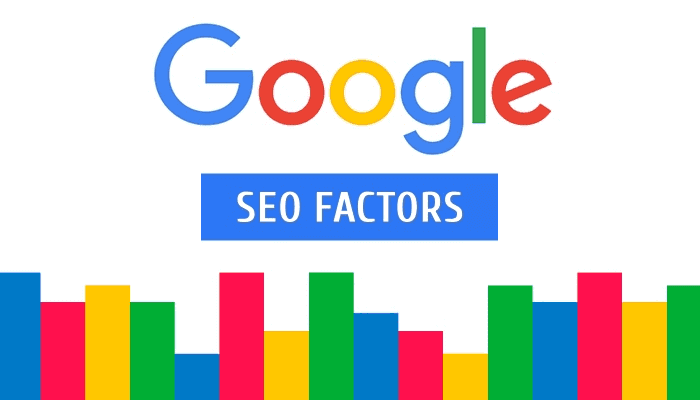 Search engines like Google use many different factors to decide how and where they're going to rank your website in search listings. Does your web designer know what they are?
Google Search uses an algorithm that takes into account hundreds, maybe thousands, of factors that change slightly from time to time. In order to deter abuse, Google only publicizes some of these factors.
This list is a summary of just a few factors that Google Search considers when ranking websites. Some of these factors are more important than others, but an experienced, knowledgeable web designer strives to incorporate as many of these into your website as possible to make it more search friendly. Read more about Google search ranking HERE.
Website Address (Domain Name/URL)
Age: Older domain names and websites rank better than newer.
Registration Length: Register your domain name for as many years as you can (5-10 years is better than 1-3 years, as it tells Google that your company is in it for the long haul).
Domain Length: Strive for shorter, more concise domains. For instance, for the company "Joe's Excavating Inc.", the domain "joesexcavating.com" could have a slight edge over "joesexcavatingincorporated.com".
Domain Keywords: Your domain name should contain your keyword(s). For instance, the domain "joesexcavating.com" is better than "joesllc.com" (although the second, shorter domain is best for business cards, trucks, shirts, etc., and can be redirected to your main domain).
Exact Match: For the company "South Jersey Excavating", the domain "southjerseyexcavating.com" is better than "southjerseyexcavators.com".
Page Address Length: Like domain names, strive for shorter, more concise page addresses. For instance, the URL "www.joesexcavating.com/excavating.html" is better than "www.joesexcavating.com/ weprovidelotsofexcavatingservices.html".
Page Address Keywords: The page address "joesexcavating.com/excavating.html" is much better than "joesexcavating.com/page1.html".
Mobile Friendliness
As of April 2015, Google made mobile friendliness a "major ranking factor". NON mobile-friendly websites are pushed to the bottom of rankings, especially on mobile devices. Luckily, 94% of small business websites are mobile-friendly in 2022. In 2017, that number was 79%. So if your web designer did NOT make your 2017+ website mobile-friendly, shame on them!
NAP (Name, Address, Phone)
If your company name is associated with a different phone number in other online locations than the phone number on your website, or if the address doesn't match, or if the company name is different, Google may drop your website in its rankings. This is a very important search ranking factor. So if your website says, "Joe's Excavating, LLC", your Google My Business listing says, "Joe's Excavating, Inc.", and your Facebook page says, "Joseph's Excavating", you need to choose ONE name and stick with that for all of your online exposure.
Title Tag
Each page of your website should have a different title tag, and the title should contain at least one keyword. So if the company name is "Joe's Excavating", a good title might be "Joe's Excavating in South Jersey" or even "South Jersey Excavating | Joe's Excavating". Search engines only show a maximum of around 60 to 80 characters of a title tag, so you shouldn't make the tag longer than that.
Description Tag
This is a summary sentence that describes your products and services and your geographical region, as well as important keywords. Search engines show a maximum of around 160 characters, but "may" show up to 300, so you should keep the number of characters within that limit. Keywords in the description tag should also match some of the keywords throughout the web page, particularly those within the first few sentences of the page. And the description tag must be in complete sentences rather than just a bunch of keywords strung together. Search engines like Google may not always use the description tag in search results, but it's still important for search optimization.
Text Content
Quality Content: The text on your website should be helpful and informative, rather than just "marketing fluff" (everybody says they provide great work and the best customer service!). Google rewards authorities and experts, so a website with a lot of pages, including frequently asked questions (FAQ's) and blogs, is generally going to rank better than a website that focuses primarily on your company and why someone should hire you. Information about your company is important, of course, but if that's all the website consists of, then it's just an advertisement. So for instance, if you install windows, explain the different types of windows available, where they should be used, and the pros and cons of each.
Amount of Text: The more text, the better, but to a point. Too much text can bore readers, especially if it's just marketing fluff. And pages consisting of only images, with very little text, may not rank at all. More pages with more helpful content is always best.
Number of Pages: A one-page website most likely won't rank in Google Search no matter how long it is. Three pages seems to be the minimum. But the more pages on your website, the better, as long as they consist of quality and original content, and a good amount of text.
Original Content: Your text should be original, not copied from someone else's website. In fact, Google may remove pages with duplicate or plagiarized content from their listings, and even blacklist your website from search results altogether.
Grammar and Spelling: Avoid misspellings and poor grammar.
Reading Level: Wording should be at a basic reading level, rather than advanced, technical, or overly sophisticated.
Website Page Load Speed
Websites that load quickly rank better than those with slow loading pages (WordPress websites often load very slowly). In fact, website speed is a MAJOR Google Search ranking variable!
Content Updates
Search engines prefer websites with recently updated content that's frequently updated (at least once every few weeks, even if you're just changing a few words around).
Images and Videos
Sites with images rank better than those without, but too many images can slow down page speed, which can have a negative effect on search ranking. A knowledgeable web designer knows how to optimize images so that they don't have as much of an impact on page speed.
Website Layout, Pages, and Coding
User Friendly and Organized: Website layout should be user-friendly, organized, and easy to navigate.
Number of Pages: The more pages on your website, the better, but to a point. A 4-page website may be better than a 3-page website, but a 20-page website is not necessarily better than a 15-page website. Three pages is the "bare" minimum that Google likes to see, which is why one-page websites don't rank well, no matter how long the page is and how far down users can scroll.
Coding Errors: Coding errors, code that strays too far from W3C coding standards, and proprietary coding (such as those used by template websites and WordPress) may not rank well.
Bulleted and Numbered Lists: Google likes bulleted or numbered lists for content that should be grouped together, because it's more organized and easier for the reader to understand.
Broken Links: Make sure links on your website are working, and that the content you're linking to is available.
Image Alt Tags: Alt tags added to images help search engines determine what the image is about, since Google can't "read" images.
H1 Tags: H1 tags in the body of the page are considered "secondary title tags", and you can have multiple H1 tags on the same page as long as you don't overdo it. H1 tags rank better than non-H1 text. H2 and H3 tags are also important.
Contact Information
Add your company's contact information (phone and address, or at least phone, city and state) to the website. But never put your email address on your website, as spam bots scour the internet looking for email addresses to add to spam databases. You could end up getting inundated with spam. An email contact form is a much better solution if you want prospective customers to email you.
Social Media
Company Social Media Profiles: Companies with social media profiles (Facebook, Instagram, YouTube, etc.) rank better than those without, especially if those profiles are active and content is frequently added to them.
Social Media Shares: The more shares, likes, posts, tweets, comments, etc. on social websites about your website, the better.
Age and Rank: Shares and likes from high-ranking and older Twitter and Facebook accounts count more than those from newer or unpopular accounts.
Sitemap
A sitemap.xml file helps search engines effectively and accurately index your website, and is utilized by Google Search Console. Web designers should know how to set this up.
Google Search Console and Google Analytics
Google Search Console is VERY important in helping your website rank better in Google Search, and Google Analytics allows you to see statistics for your website's visitors.
Backlinks (Incoming Links from other websites)
Quantity: The more incoming links ("backlinks") that your website has from other websites, the better. This is a VERY important Google search ranking factor.
Quality: Links from high-ranking, popular, reputable websites are better than those from low-ranking websites, and backlinks from "link farms" or other low-quality sites can actually hurt your search ranking.
Age and Popularity: Backlinks from older and/or popular websites are better than those from newer websites.
Bounce Rate
Bounce rate measures how quickly a visitor "bounces" off your website. You can find your website's bounce rate from your Google Analytics account. A high bounce rate is not ideal. Bounce rate can be high if the website is outdated or not displaying properly, is difficult to navigate, or contains uninteresting content. Videos, images, and interesting content keep the user on the website longer, lowering the bounce rate (although videos and too many images can also slow your page load speed). Bounce rate can also be high, however, if a lot of spammy websites visit your website, which is something your web designer can't control.
Domain Authority and Page Rank
These are scores that used to be meaningful in determining your website's popularity, but in the mid 2000's they fell out of favor and are no longer used to judge your website. Yet some website analysis reports still include them because they sound important. If a company claims that your website has a low page rank, that's a red flag that they're either way behind the times, or they're trying to sell you a bunch of bull!
User Reviews and Website Reputation
Negative reviews on Google My Business (the map section at the top of Google Search) can affect your website's search ranking.
© T. Brooks Web Design, LLC.
All rights reserved.

Do not copy content from this page without attribution to T. Brooks Web Design and link back to this page.