How Much Does a Website Cost?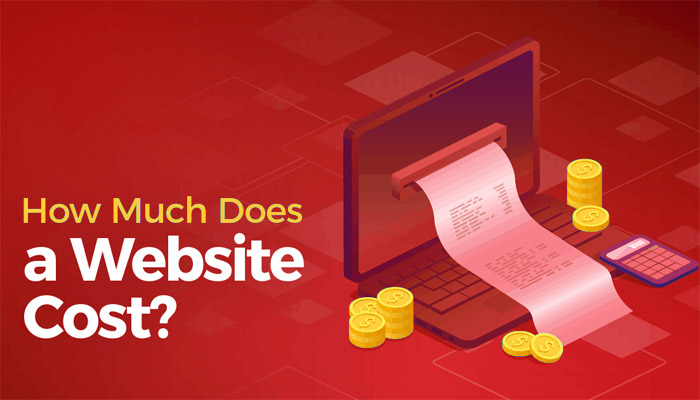 How much should you pay to get a website built? It's difficult to figure out the average cost of a website because there is no "set" industry pricing, and no organization that oversees website pricing. One web designer may charge $500 and another web designer may charge $5,000 for the same website.
Don't Hire a Web Designer Based on Price Alone
Although it may be tempting, it's usually not good to go with the lowest price when hiring a web designer (or at least basing your decision on price alone). Why?
There's a good chance the quality will also be low, which will cost you more in the long run because of the prospective customers who won't call you because the website isn't working properly, or won't find you online because the website doesn't rank well in Google.
There may be hidden or high ongoing costs (a tactic that a lot of web designers use... cheap upfront costs but very high monthly or annual fees).
You may actually end up "paying" more in the long run with your time and aggravation.
Very Cheap Websites
REAL web design - not just plopping your content into a pre-existing template, which is NOT web design - takes a lot of time and know-how. If the price sounds suspiciously cheap, that means one of two things:
You're not going to get a quality result, or
The web designer doesn't know how to price their work or isn't all that interested in making a profit (if you're lucky, you'll find one of these web designers, who does great work for minimal return!)
Ikea's prices are cheap because you have to put the furniture together yourself. And furniture purchased from Big Lots or Walmart is cheap is because it's probably not going to hold up very well over the years. If you're a roofing contractor and you find it difficult to compete with other roofers who charge half the price, just wait a few years and those homeowners will be ready to get a new roof when their "bargain" roof fails. The saying, "You get what you pay for" is true in many cases, including web design.
Comparing Web Designer Prices
When you're comparing website designers, you should compare apples to apples, but that can be difficult. A small 3-page bargain basement website should be cheaper than a premium 15-page website with all the bells and whistles, but in reality that's not always the case. Other factors, such as what the website designer does "behind the scenes", search engine optimization, off-site marketing, even the web designer's experience, can affect the price of the website.
So you can have two websites that look and act exactly the same, but one will show up on the top of Page 1 of Google Search, and the other won't move beyond Page 8; in that case, the website on Page 1 might be smaller and with fewer pages, but might cost more because more was done behind the scenes to get it to rank better.
Variables That Can Determine the Cost of a Website
If your web designer is a small one-person firm, they may charge you less than a large company with several designers on their payroll because they don't have as much overhead. But what if the smaller web designer provides a higher quality product, a manually hand-coded website (which most web designers don't provide), and better personalized service, and the larger company just outsources their work to China or India (as many web designers do)? In that case, the larger company may actually charge less because they're not really doing the work, and you may get a generic "cookie cutter" website that doesn't rank well.

If the web designer is also doing SEO (search engine optimization – which is necessary for every website, but something that not all web designers are skilled in), online marketing, social media, a logo, etc., they will charge more than a company that's simply throwing together a quick website without proper SEO or online promotion.

You also have to consider customer service; if you have a question or need to get a change made to the website, you want a web designer who answers the phone or calls you back in a timely manner, not one that you have to chase for weeks.
Since there are so many variables in determining the price of a website, how do you find a good web designer? Obviously if the company doesn't have a website of their own, or their website doesn't include links to other websites they've designed, you should think twice about hiring that company no matter how cheap they are. On the other hand, if the websites they've designed look great, how do you know they're actually good quality websites or not? The only way to know for sure is to check "under the hood", much the way you would when buying a car. A beautiful shiny car isn't much good if the engine is bad. But as a consumer, you won't know what to look for; only an experienced web designer who does manual website coding understands what's going on "under the hood" of a website and can determine if it's designed properly, has adequate search engine optimization, etc.
As you can see, web design can be VERY expensive. But it doesn't have to be. Finding a web designer who does great work and is also affordable can be like finding a needle in a haystack. But they are out there, and T. Brooks Web Design is one of them!
© T. Brooks Web Design, LLC.
All rights reserved.

Do not copy content from this page without attribution to T. Brooks Web Design and link back to this page.